by Kimberly P.
Should Auld Acquaintance Be Forgot. . .
As the year winds down, it's the customary time of "year-end" lists. Best movies of 2017, Best Books of 2017, Best Dressed of 2017. . . If you can think it, there's probably a year-end list for it.
At Sno-Isle, we've put together a list of our own. An annual collection of staff favorites that we've loved throughout the year. As you can imagine, with such a diverse group of people, we read, watch, or listen to any and everything. Still, there were some favorites that were the most popular in their respective categories.
. . . and Auld Lang Syne!*
Representing the Favorite Movie category, DC triumphed over Marvel as Wonder Woman, a film exploring the superhero's World War I origins, took home the Sno-Isle trophy for most popular movie. We couldn't get enough of superheros as Logan, a dark, near future X-Men movie, came in second.
For our Favorite Audiobook category, it was a close one. Norse Mythology by Neil Gaiman, a retelling of classic Norse stories and read by the author, turned out to be the auditory book of choice for several staff members. It also shares the spotlight with Talking As Fast As I Can: From Gilmore Girls to Gilmore Girls (and Everything in Between) by Lauren Graham.
When it comes to Favorite Music, it was difficult to determine a clear winner. Staff liked what they liked, and with very little overlap–though we couldn't seem to get enough movie soundtracks & musicals. That said, of the albums mentioned, Run the Jewels 3 by Run the Jewels cropped up again and again. Who knew socially conscious hip hop would find a home among library staff? Following in a close second is jazz album Robot by Caravan Palace.
Like our music category, it was almost as difficult to determine a winner for Favorite Children title. Staff's taste run wide and deep. Nevertheless, out of the sea of children's literature, there was only one title that surfaced more often than any other: The War That Saved My Life by Kimberly Brubaker Bradley. It seems we have an avid interest in World War II children's historical fiction, especially when told through the perspective of a disabled child longing to escape her life of abuse and neglect.
For Favorite Teen, The Hate U Give by Angie Thomas was a clear winner. Its clear-eyed examination of injustice touched the minds and hearts of several staff members. For others, what influenced them more was their sense of smell. Particularly, The Smell of Other People's Houses by Bonnie-Sue Hitchcock, which shares the second place spotlight with Dragonwatch by Brandon Mull.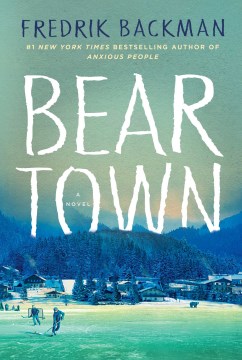 We read a ton this year! (Did you expect anything different?) It seems for our Favorite Adult Fiction many staff whet their voracious appetites with Beartown by Fredrik Backman, a story of secrets, hockey, and how the actions of a few can destroy or make a rural town; we washed it down with Norse Mythology by Neil Gaiman.
In the Favorite Nonfiction category, it seems a local author captured the hearts of many a Sno-Isle staffer. You Don't Have to Say You Love Me by Sherman Alexie wins the vote for most popular. We're suckers for complex (and sometimes contentious!) maternal relationships. Rounding out the category are Hillbilly Elegy by J.D. Vance and Coach Wooden & Me by Kareem Abdul-Jabbar which tie for second.
What's your favorite book for 2017? Have you discovered an as-yet-unread title you're eager to sink your teeth into?
*= For those who, like me, had no idea what "auld lang syne" means–it roughly translates to "for the sake of old times".